, MNQuickBooks Online Certified ProAdvisor
How do I find a QuickBooks ProAdvisor?
A QuickBooks ProAdvisor is someone who specializes in helping other businesses use the accounting software called QuickBooks. The best way to find a qualified accountant or tax consultant that can answer all your questions about financial goals, how to use QuickBooks, and bank reconciliations is to ask for referrals from people you trust. Your QuickBooks expert should be able to tell you who they recommend, and so should other professionals whose work you respect.
When choosing a bookkeeper, check to see if he or she knows about Intuit's Certified ProAdvisor program, which offers specialized training on QuickBooks online for CPAs and bookkeepers by professional trainers from the industry leader. To find a ProAdvisor in QuickBooks online available in your area at Bookkeeping and Billing Solutions. A business is probably the most valuable thing a person has.
Therefore, it makes sense to seek out a trustworthy Business QuickBooks ProAdvisors who can help you manage your profits and losses to get the most out of your small business. You want someone with over twenty years experience in dealing with both small and large companies, as well as a good understanding of quickbooks proadvisor. If your company is a multinational corporation or you have several different financial transactions taking place, you want someone who can help you with those complex issues as well.
In addition to needing to know how to operate quickbooks live for your business needs, an accountant will also need to be familiar with state and federal tax codes that apply to businesses. You should ask potential accountants about their training in this area before signing any contracts or asking them to handle your finances. When choosing a bookkeeper, it's important to remember that the person you select should understand not just how QuickBooks works but also what information needs to be presented and reported for taxation purposes, so you don't have to hire a specialist as well.
In some cases, it might be advantageous to have a company that specializes in accounting and taxation work for you as well as provide some high-level business management services. This is the kind of one-stop shopping that many professionals seek out today, especially since it can result in significant cost savings on things like insurance premiums and other expenses. By finding an outside accounting firm with enough contacts at various companies or simply a large book of clients, they may be able to reduce your monthly bills by negotiating better rates. If you are looking for Accountants & Bookkeepers available in your area at Bookkeeping and Billing Solutions, we are the local business management experts.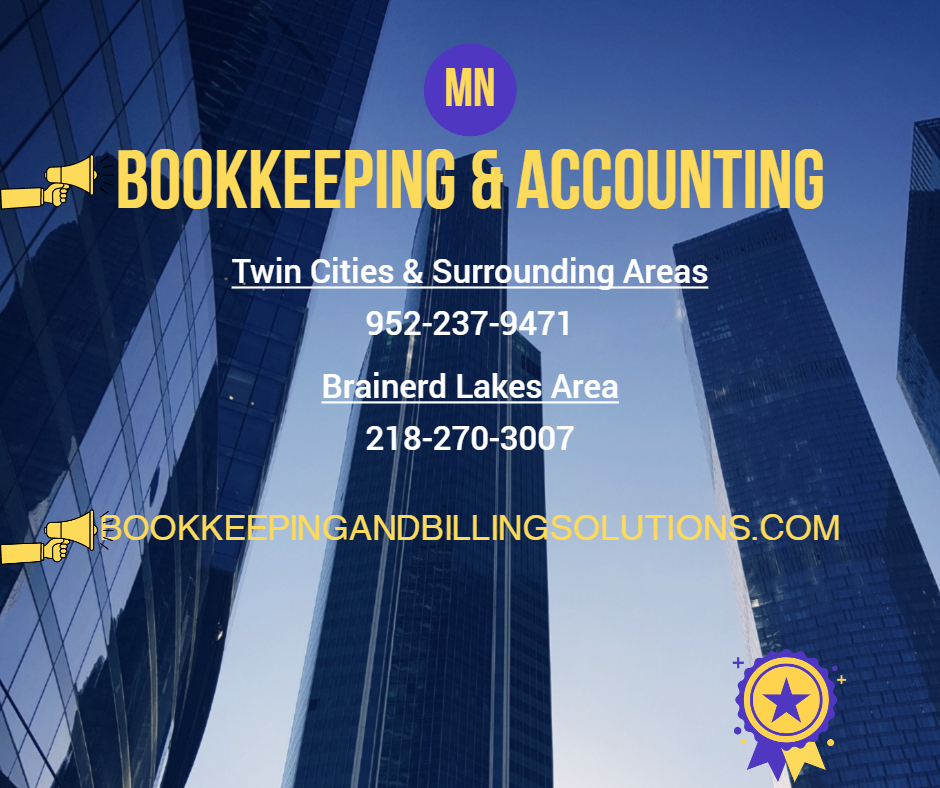 Not all QuickBooks ProAdvisor's are the same.
Not all QuickBooks ProAdvisor's are the same. Some of them can help you set up and install your QuickBooks online business applications, such as accounts receivable or small business bookkeeping; Our experienced bookkeeper has been recognized through an exam that will make sure they know how to properly use this powerful application for years ahead-and their experience using it is invaluable! A certified consultant training with one of those consultants would be useful if you're looking into setting up accounts in QuickBooks.
While financial management and financial reporting is the general practice of managing individual or small business. On the other hand, online bookkeeping services refers more precisely to the practices and tasks involved in managing financial reporting as well as tax preparation services. In the Brainerd lakes area, Minnesota, Bookkeeping and Billing Solutions ongoing bookkeeping and accounting services for small businesses are highly experienced in online bookkeeping service and business accounting software and we serve large, medium, and small businesses all over the country.
Trusted experts. Guaranteed accurate books.
Being a business owner is tough work. In addition to keeping an eye on your accounts receivable, you have to manage employees and make sure the company has adequate financial security. This may be why so many small businesses opt for professional bookkeeping services from a trusted expert who can ensure accurate books every time.
In today's world of technology, it really isn't that hard to do your own bookkeeping and accounting even if you're not good at numbers or math. You just need a little know-how and some patience. However, it's no easy task for owners of companies with dozens of employees – especially those in highly regulated industries – who simply don't have the time required to maintain their books during tax season.
"Hiring professionals ensures accurate books every time. Bookkeeping is time-consuming and it's easy to make mistakes. It requires extensive knowledge in accounting, so if you don't fully understand the process, you run the risk of making errors," says an accountant who specializes in small businesses.
The idea behind hiring a trusted expert to do your bookkeeping is that "you get what you pay for." A reputable company will keep its word when it comes to saving clients' money, while ensuring accuracy. As one business owner said: "It doesn't matter how inexpensive my service is if I can't depend on them delivering accurate results without me spending hours trying to fix every problem that arises! That means people losing their jobs or having to take out high interest loans because they don't know what the numbers are telling them."
As a bonus, if your trusted expert can offer you guidance on better ways to manage your business that will save you money, all the better. Many of these types of services also allow their clients access to free or inexpensive online training courses to help improve individual job skills and stay current with changes in laws and regulations. This can be an invaluable resource for businesses operating either domestically or internationally.
When selecting a bookkeeping service there are some important questions owners should ask their potential providers:
What certifications do you possess? (Make sure they have at least one professional designation)
Are there special services you provide that will save me money.
Do you have any testimonials or references I can call?
What are your fees? What is included? Are there additional charges if I need something done that's not in the initial scope of work, or am I charged for updates and changes to my books?
Asking these questions may save you some time, money, and frustration over the long run.
How do I know if my bookkeeper can help me or not?
Communication is available any time include document sharing and live chat with a member of your bookkeeper's extended team. Will I be locked into a contract? No, Full-Service Bookkeeping is a month-to-month service, and you can cancel any time. We offer bookkeeping services.
Yes! QuickBooks Live Bookkeeping is an online bookkeeping service that connects small businesses with trusted, QuickBooks-certified virtual bookkeepers. Your bookkeeper takes the lead on your everyday bookkeeping and runs essential reports so you can focus on your business.
Your bookkeeper will ask you some questions about your business, so they understand your needs. They'll also show you some reports so you can see how it works before deciding. Can I hire someone local instead of online? Yes! You can hire an online virtual assistant or accountant to work with you online instead of hiring an in-person local bookkeeper.
Firms that you can trust to always have accurate books are rare. That's why finding a bookkeeper is so difficult. You need someone who is trustworthy, knowledgeable, and experienced. All our team members are QuickBooks certified professionals with bachelor's degrees in accounting or finance. We have an average of 13 years of experience each so there's no question too big or too small for us to handle. Our rates are competitively low given the level of expertise we offer.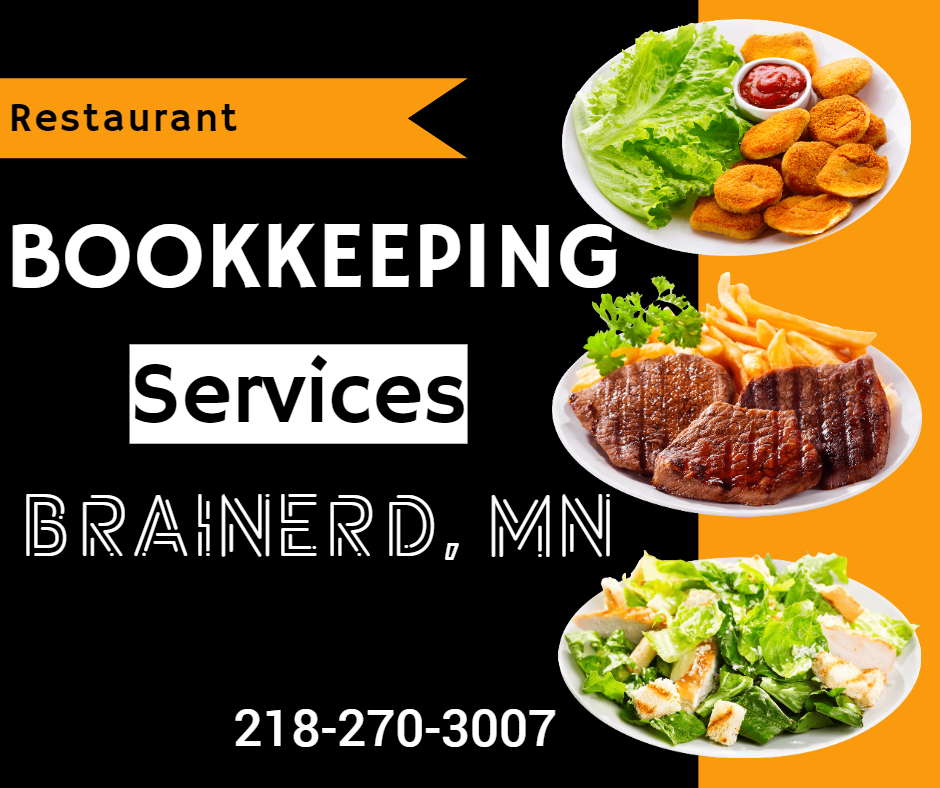 Bookkeeping and Billing Solutions firm was founded by Chanda DeVilliers.
Offices in Brainerd (218) 270-3007 or Twin Cities (952) 237-9471
The Original Financial Software for Small Businesses
When business owners began using early versions of QuickBooks Pro over 20 years ago, there were no programs specific to small businesses that could perform all the bookkeeping tasks required to run a startup or an established enterprise. Using only paper and pencil, entrepreneurs had to do their own calculations by hand and hope they didn't make any mistakes. Today's business environment demands much more than this old-fashioned way of doing things – computers are now often used to keep track of sales transactions, inventory levels, accounts receivable invoices, bills payable, general ledger entries, payroll information, banking records and tax preparation activities. Every one of these features is included in today's QuickBooks Pro programs so that small business owners can stay on top of every aspect of their company finances.
How do I find QuickBooks expert in my area?
Search the internet. – Then, contact them to see if they are qualified as a QuickBooks expert. There are also QuickBooks expert services on the web that can provide you with full service accounting in your area.
This is where to start looking for an accountant or bookkeeper who specializes in QuickBooks:
In addition to searching the internet, if you have a business that is using QuickBooks [or has been using it in the past], then ask around on social media.
You can also call your local chamber of commerce and find out about a list of accountants/bookkeepers who specialize in QuickBooks.
Find someone locally so they will be more likely to have answers for you right away rather than having to wait for answers from a third party.
Before contacting any potential candidates, call each candidate and ask them these questions:
1) Are they familiar with QuickBooks ?
2)How long have they been working with QuickBooks Certified Pro?
3) What do they charge hourly or per job? How much does it cost to set up my books?
4) How long will it take to set up my books?
5) Where are they located and how can I contact them in case of emergency and not be able to get a hold of them right away.
6) If there is something that you found concerning with your QuickBooks, would you notify me?
Are you looking for a QuickBooks pro in your area?
Look no further! We would be happy to help. We have helped thousands of clients and can probably help you too. At Bookkeeping and Billing Solutions we are here to make your life easier by making bookkeeping easy.
Have an existing client with a problem? Let us work on it! Have accounting experience but need some guidance from time-to-time…we can provide the service. Have no accounting knowledge, don't know where to start? We've got you covered there as well.
We love finding new ways to use technology in our lives and want that same experience for all people who work hard for their money. So if you're tired of working hard and want to take advantage of all the latest tools and technology, just pick up the phone and call. We're waiting by to help you today! We have a lot of great information on our website for small businesses in Brainerd, MN.
You can stop by anytime or give us a call at Brainerd, MN (218) 270-3007 or Twin Cities (952) 237-9471
FAQs
What is your service area?
Crosslake, MN, USA
Minnesota, USA
Minneapolis, MN, USA
East Gull Lake, MN 56401, USA
Brainerd, MN 56401, USA
Baxter, MN, USA
St Cloud, MN, USA
Are you available weekends?
Yes we are here Saturday.